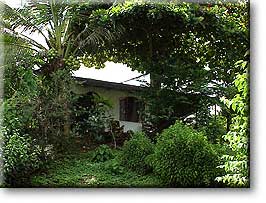 Casa Bumerango
Casa Bumerango - Vacation Rental Home featuring 3 bedrooms, one bathroom, a village view and a large garden filled with exotics. Perfect for groups up to 6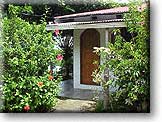 Casa Bumerango is located in the peaceful Quepos neighborhood of Paraiso (meaning "paradise"). It is a friendly, low-key enclave close to the village center yet removed enough to be relaxing and quiet. Included are tasteful bamboo, wicker and hardwood furnishings, hardwood ceilings, terrazzo floors and modern features like cable TV, stainless cookware and more.
The Quepos main beach is a close walk from Casa Bumerango, as is the bus station, central market, sportfishing facilities and all other tourist amenities. Nowhere will you meet such charming and exotic people; so friendly and full of life. Casa Bumerango is perfectly suited for discovering the best of Quepos and nearby Manuel Antonio National Park.
Casa Bumerango is next to Casa Warilla. Booking both homes is a perfect option for larger groups.